34 Shops Destroyed As Iponri Market Gutted By Fire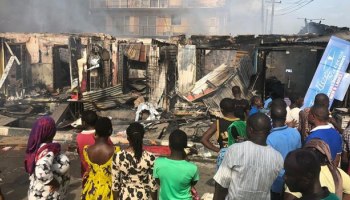 The fire which swept through Iponri Shopping Centre, Iponri, Lagos Mainland Monday evening left no fewer than 34 shops burnt.

The cause of the fire was unknown, but eye witness said it was caused by power surge.
Many traders who were about closing for the day were called back. Shop owners and buyers left trading and scampered for safety.
Acting Director of Lagos State Fire Service, Rasaki Musibau, advised all electrical appliances should be put off at the close of work. This, he said, would prevent electrical surge which could lead to a fire.
Musibau added that cautions should be taken in handling or exposure to naked fire especially during "this heat season." He warned Lagosians to avoid panic buying of fuel and desist from storing same at home.
Similarly, Lagos State Fire Service Chief Public Affairs Bola Ajao said though the fire has been put under control, investigations is ongoing to get the cause of the inferno.
Fire fighters from Sari Iganmu stormed the place to put out the fire. They were joined by men from Ilupeju Fire Station.
Traders were reported looking for remnants of their burnt items after the fire was put out around 10 pm. Shop owners and buyers left trading and scampered for safety.